Installed to stay: the parquet floor in Veras, Lukas' and Loris' home
How it all began
Vera and Lukas started the adventure of house planning in their city apartment in Graz, already at that time, but still as a belly dweller, always with them - their now 2-year-old son Loris. Dog Heidi was also allowed to stick her nose into this matter from time to time. The two are two of many reasons why the young couple wanted to fulfill the dream of their own four walls in Vera's home community in the countryside.
Read on to find out how this "coming home" worked out for the three of them, what is important to them when it comes to living and what role Scheucher Parquet plays in this.
---
Multitasking made easy with virtual parquet advice
It's not easy to concentrate on a complete house construction with over 200 m² in addition to all the thoughts about the soon-to-be new family member. How fortunate that acquaintances were just renovating their floor and Vera and Lukas became aware of Scheucher Parquet along the way. With the help of the online Parquet Finder, Scheucher subsequently provided the two with a particularly practical source of inspiration, as they were already able to virtually test in their unfinished house which parquet flooring would have its effect in the open and light-flooded bungalow.
After ordering a few free hand samples via the Parquet Finder, the choice was made: a large-format plank will come into its own in the spacious living and dining area and should also find its place in the hallway and the other rooms to get an harmonic overall look.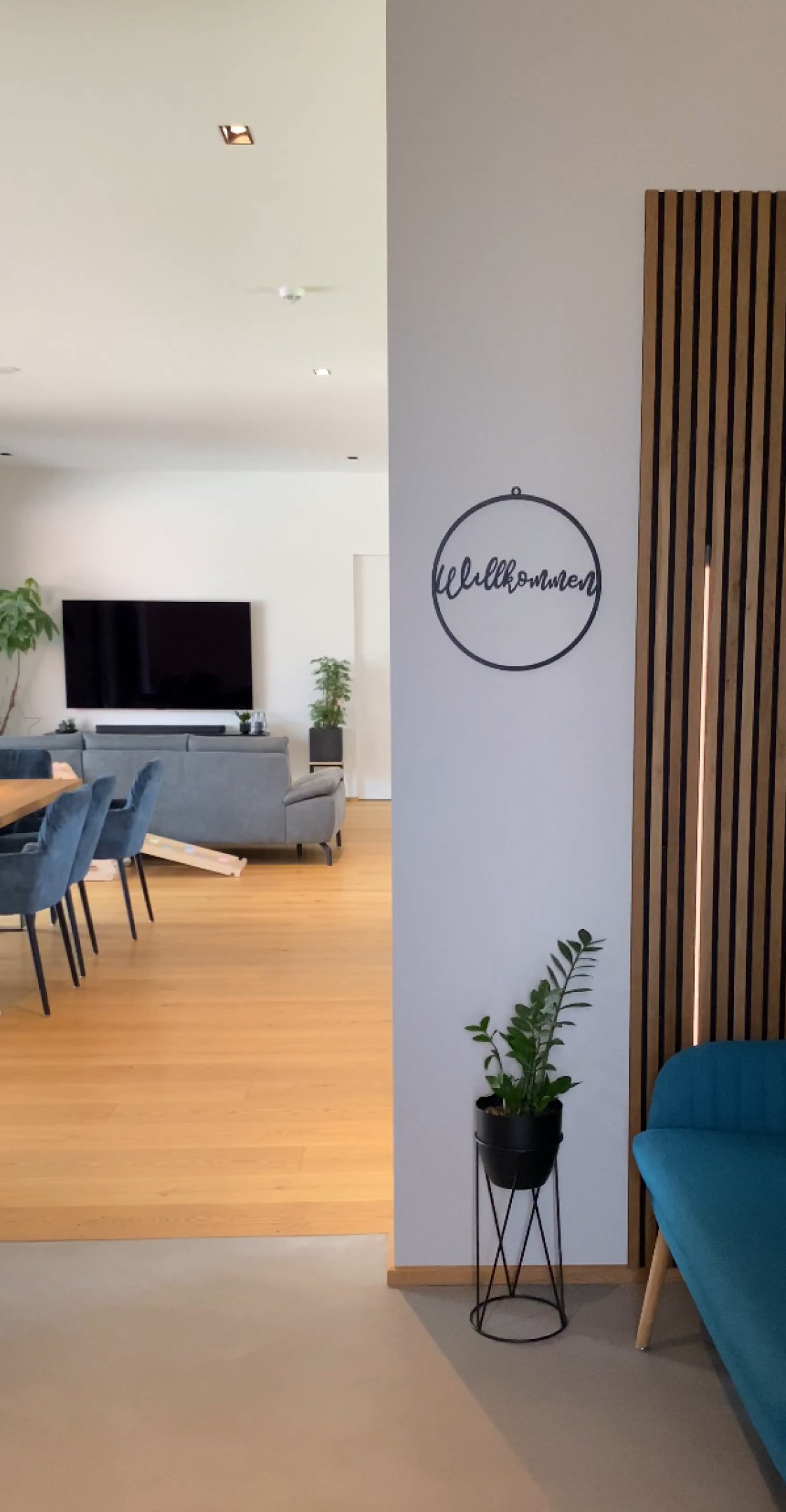 "But first Parquet" - Scheucher parquet was the top priority in planning
For Vera and Lukas it was clear from the beginning: the choice of the parquet floor has top priority, because it will certainly outlast most of the furnishings. The two therefore took their cue from the look of the parquet floor and then chose their furnishings and also the color of the wooden windows. An oak plank with a transparent oiled/waxed surface looks particularly good, because the natural color scheme can be perfectly combined with current furniture, is timeless and underlines the natural living factor that Vera and Lukas particularly wanted and created with wood and plants as well as plenty of daylight.
A positive side effect: In addition to their controlled living space ventilation, the large-area wooden floor also ensures an optimal indoor climate and promotes the health of the young family. Everywhere to be found and an equally important feel-good factor are sufficient seating-accommodations - predominantly in the currently absolutely trendy velvet material. It is not only soft and noble, but also always brings in a touch of retro - a style that Vera, mixed with industrial and minimalism, wanted for her home. The selected plank WOODflor NOVOLOC 5G 222 in Oak knotty Natura Valletta Seda shows itself expressive, but at the same time balanced restrained to the eye-catchers in the house.
Nothing beats personal experience - Vera and Lukas know the pros and cons of parquet, laminate, tile and vinyl
But back to naturalness - this factor should not only be fulfilled visually, but also functionally. Having lived in five different apartments before, the two knew the pros and cons of parquet, laminate, tiles and vinyl and definitely do not regret their decision for a real natural product - a parquet floor. Since their son Loris will also spend most of his time on the floor in the new house, it was especially important to the two of them to avoid toxic fumes or pollutants that can emanate from the floor. Therefore, they chose not to use other flooring materials and opted for parquet flooring throughout most of the house. The natural flooring with the oxidatively oiled/waxed surface is and remains open-pored, breathable, convinces with a velvety matt surface and thereby grants a particularly healthy room climate. Only to the anteroom and the wet rooms you'll find a gentle transition to a micro-cement floor.
"We definitely don't regret our decision to use a true natural product like our engineered woodfloor is!"
Slippers áde - a parquet floor brings a pleasant feeling of walking.
Also the haptics of the floor was important to Vera and Lukas: it should be warm and not too slippery, because nobody likes to wear slippers in their house. Their Scheucher parquet, with its brushed Valletta surface, offers an incomparably walking sensation and ensures pleasantly warm feet compared to tiles or other floor coverings. This invites to walk barefoot and also the pets - dog Heidi and the two cats do not slip on the floor - a benefit for all. Should there ever be a scratch or dent in the floor, that's okay with Vera and Lukas because the floor lives with them and their family. What's more, with an oiled surface, these can also be repaired particularly easily.
A sustainable lifestyle is simply part of Vera and Lukas' way of life. The entire house was designed with long-term, high-quality solutions in mind - the floor should also last for generations - and the quality of Scheucher Parquet is absolutely perfect for the two of them.
The young family feels truly comfortable their new/old home.
Copyright: Scheucher Parkett