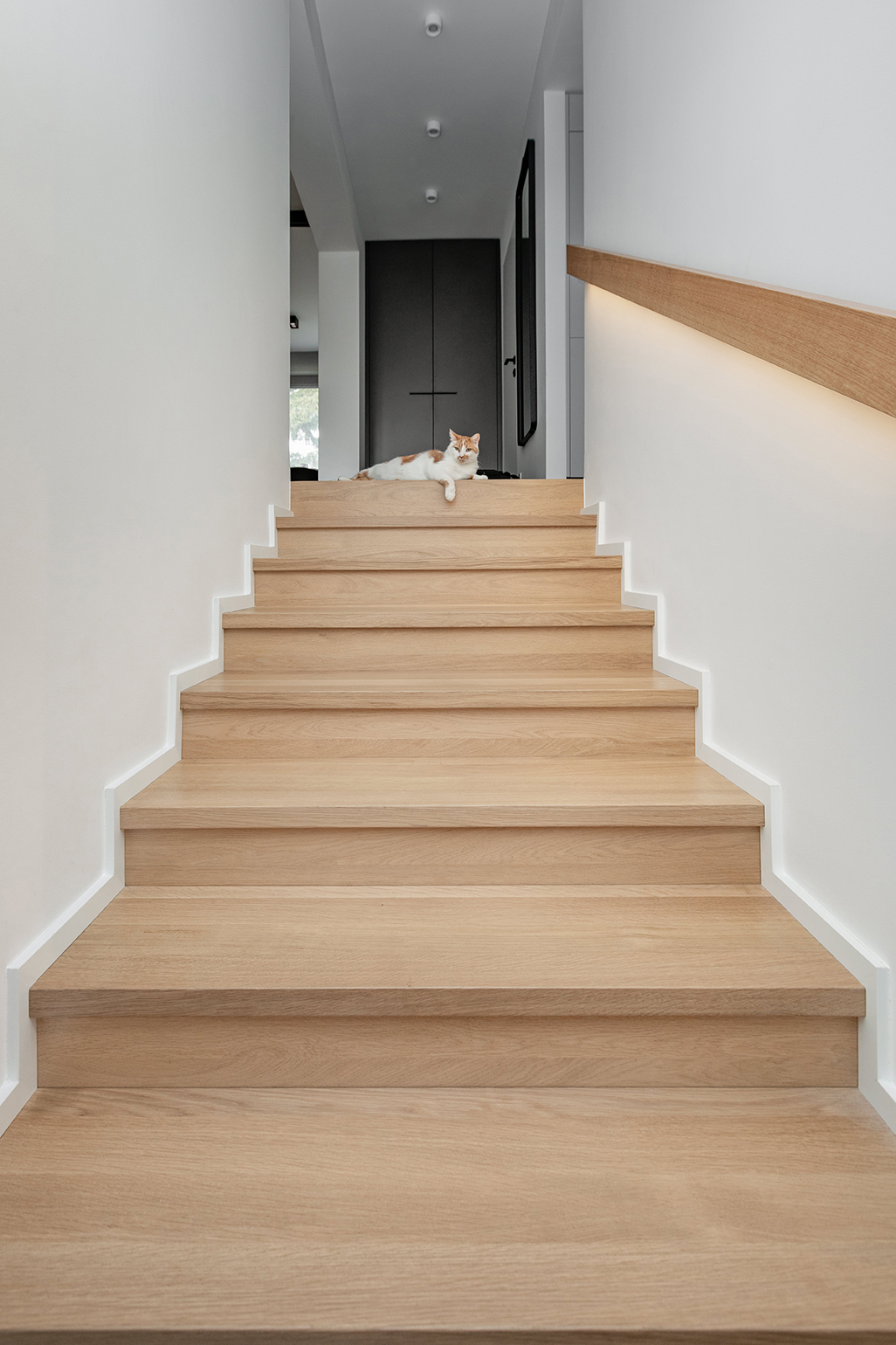 Stairbox parquet steps
The wide choice of wood types, grades and surface finishes, known from our parquet range, is also available for any desired staircase and ensures a harmonious overall view in your home. Like our parquet floors, our stair system guarantees first-class quality from professional hand and ensures flowing transitions and individual designs to perfect your home.
NEW CONSTRUCTION OR RENOVATION
PREPARED FOR ALL REQUIREMENTS.
Even in earlier times, magnificently decorated staircases in castles or manors were already used for representational purposes. And even if most stair areas are a little bit smaller today, it should not solely be seen functional by no means. Your staircase it is usually located in your entrance area, which you enter first, you welcome guests - or it might be integrated directly into your living area, where a perfect and harmonic design essentially contributes to your interior design. Therefore a staircase requires a well thought-out design and precise execution, which should be chosen to match the style of the building and the furnishings. Regardless of whether you decide in advance for an airy, open, free-floating staircase that is supported on one or both sides of the wall, or an extravagant spiral staircase: If raw concrete stairs are covered with parquet steps in a new building or in the renovation of older houses, time-consuming and labor-intensive measurements had to be taken up on site until now. The highest level of precision is required from your specialist if new stairs are to fit right away without any complaints. In addition, due to the variety, it is becoming more and more difficult for the individual parquet and stair professional to buildt steps from solid wood ...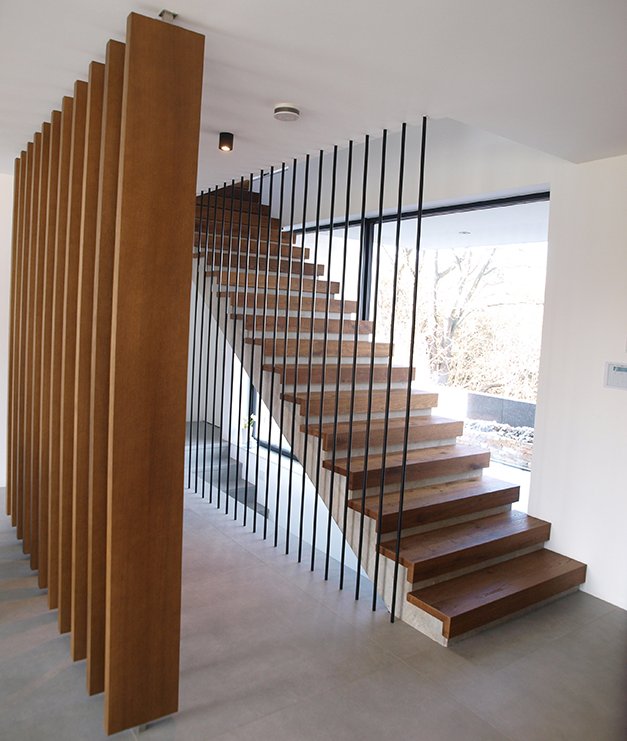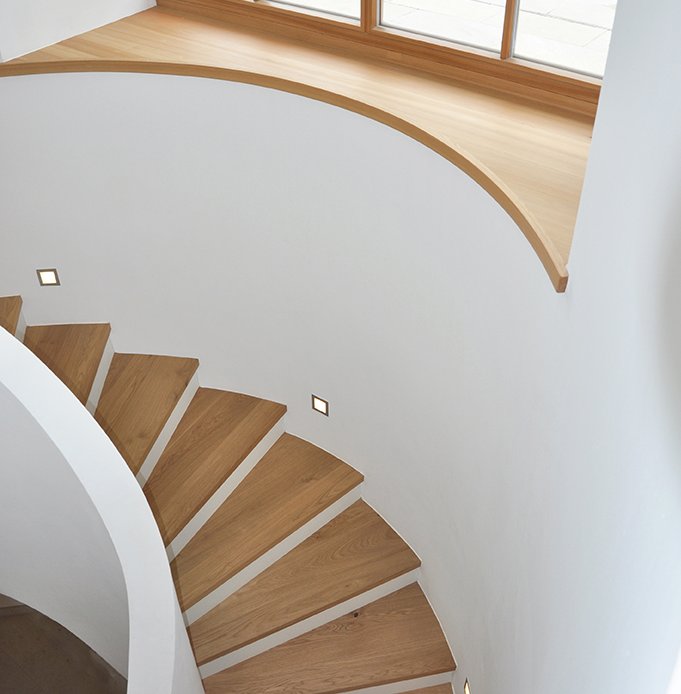 NO MATTER WHAT BASIC SHAPE OR TEXTURE.
SIMPLY PERFECT CNC-MILLED STEPS.
...that is why the implementation with Scheucher Stairbox has proven itself for many years and expands the range of services of every floorer. After a digital measurement in simple, intuitive steps without any tedious stencils, the ready-to-install parquet elements from Scheucher can be obtained directly from construction site. This minimizes complex and lengthy measurements and steps of all kinds - no matter which basic shape or texture become possible in a jiffy. This way you get your staircase from a single source, perfectly CNC-milled to the individual needs of your home or project Even risers and stair nosings that resemble the installed parquet are no longer a problem thanks to the Stairbox.
FOR A HOME IN PERFECT HARMONY.
All of this ensures smooth transitions in order to ultimately perfect your home from the basement to the top floor. Whether standard steps, block steps, steps that are visible on both sides or on all sides, straight or spiral stairs, simple or with extravagant LED lighting: Scheucher has the right covering for every taste and every personal sense of style. The large selection of wood types, colors and surface treatments known from the parquet range enables countless wood and color combinations that set almost no limits to your personal interior style. Scheucher parquet floors and steps are 100% made in Austria, natural, healthy, durable and, thanks to the careful and resource-saving manufacturing and numerous measures during production, sustainable for us humans as well as our environment.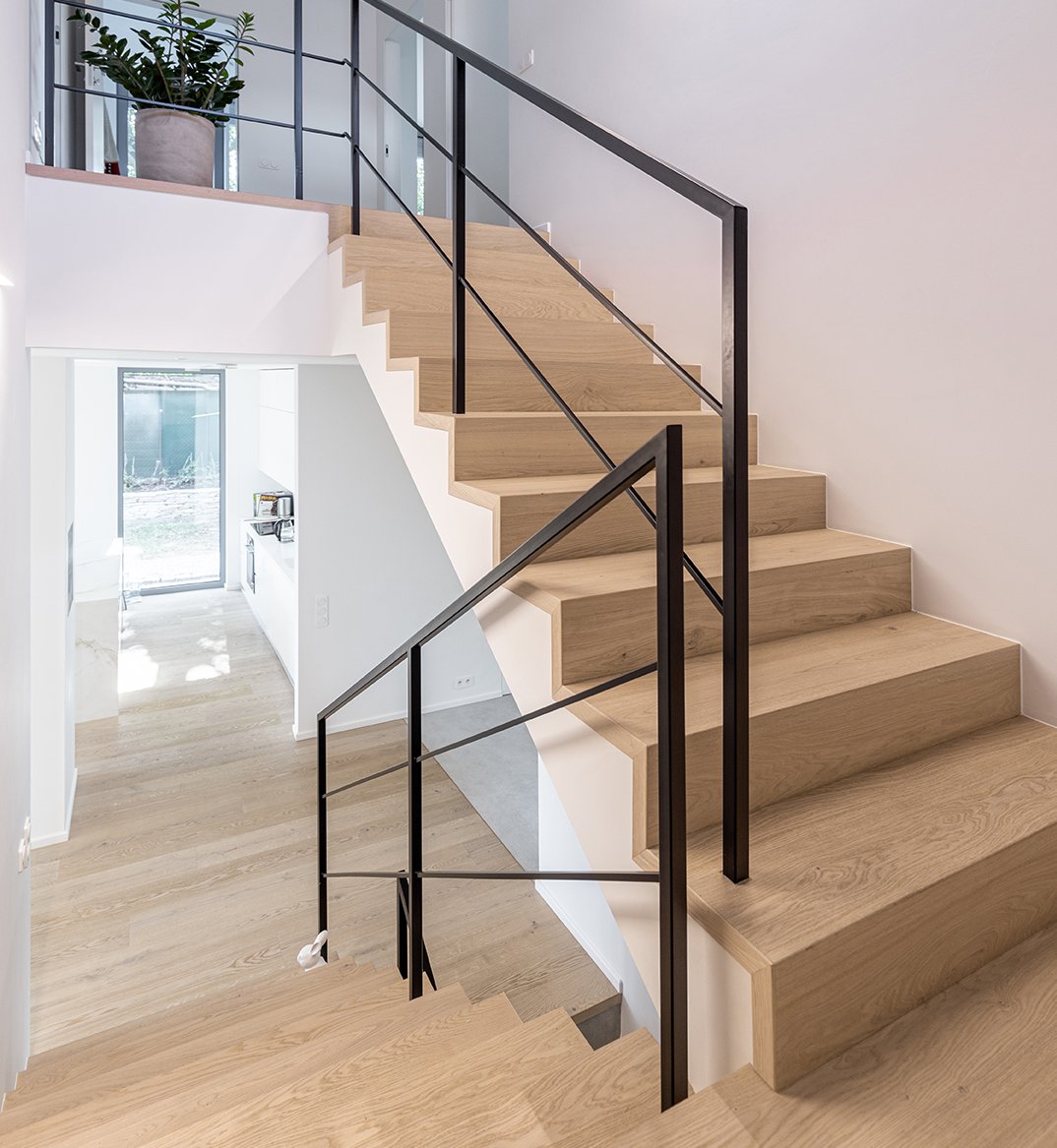 Types of stairs
Standard steps
There are almost no limits to your design wishes. Take advantage of the great variety and set a highlight in the truest sense of the word. When choosing the step, one question often arises: Will the riser be covered or just given a coat of paint in the same color as the wall? In addition to your personal taste, the everyday usability also plays an important role here. With the three-dimensional front edge and many other design options, your staircase becomes a real eye-catcher in your home.
Block steps
Resilient and modern - the block staircase becomes a robust focus that attracts everyone's attention. Despite their striking, simple design, block steps fit harmoniously into any living style.The flush finish on the front edge of the step and riser gives the stairs a modern and puristic look. There is no discernible separation, the staircase looks like they are made of a single mould. In combination with glass or metal railings, the block steps create a trendy living situation in your home.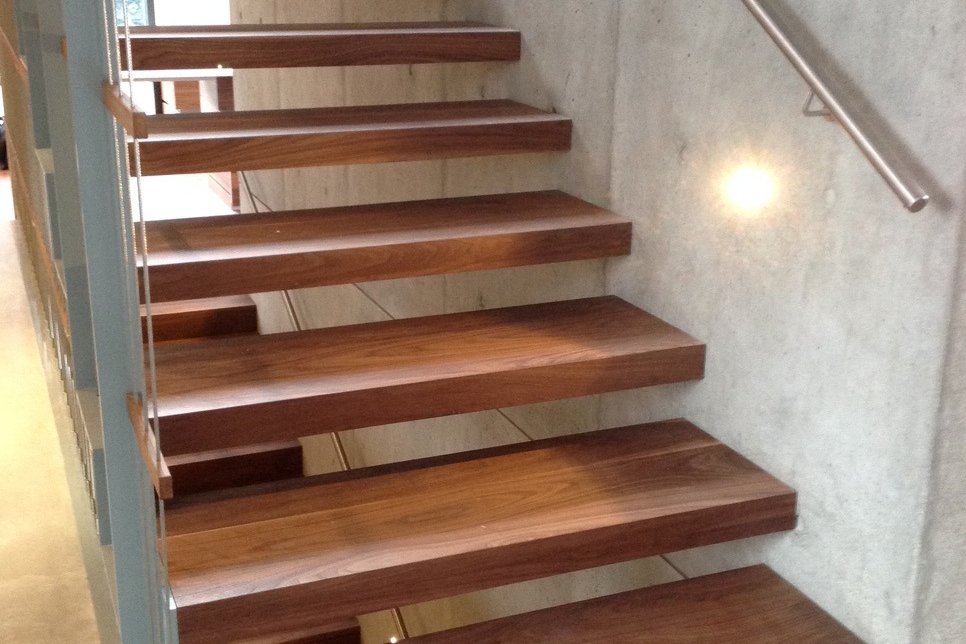 Visible Steps - one sided / all sided
Stairs are no longer just the direct way to the upper floor, but a detailed design element that has a major impact on the spatial effect. The "massive" parquet step gives your staircase an architectural elegance and classy design. They are mainly used on metal structures or as cladding steps for cantilever structures. These stairs, reflect maximum transparency and lightness.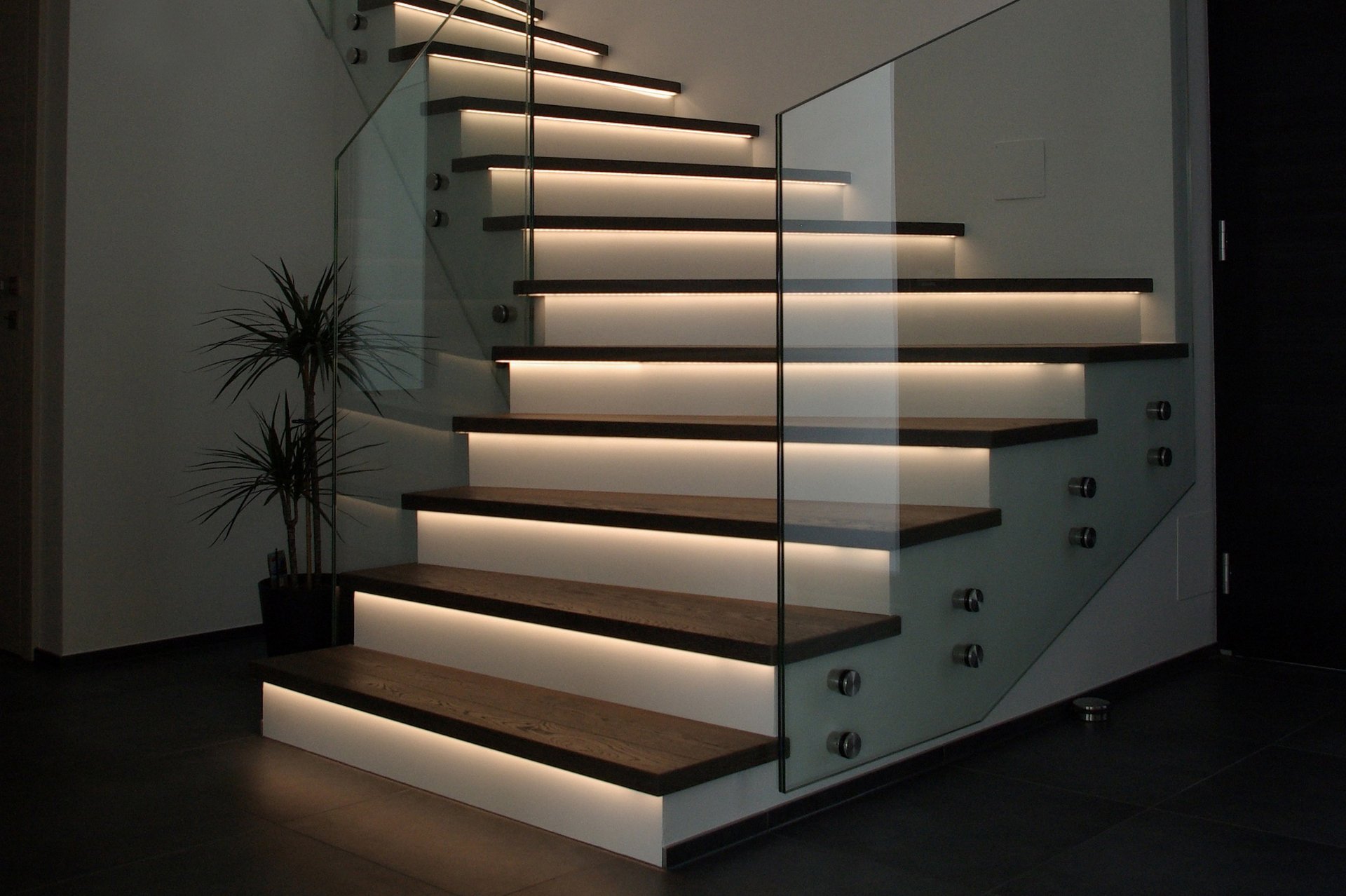 Standard steps with LED light strips
Our stairs with LED light strips are a real highlight, that lights your staircase and also accentuates the unique structure of our parquet surfaces in the evening. The LED light strip milling including an aluminum rail and frosted glass cover is available on request and is only possible for stairs with an U-profile.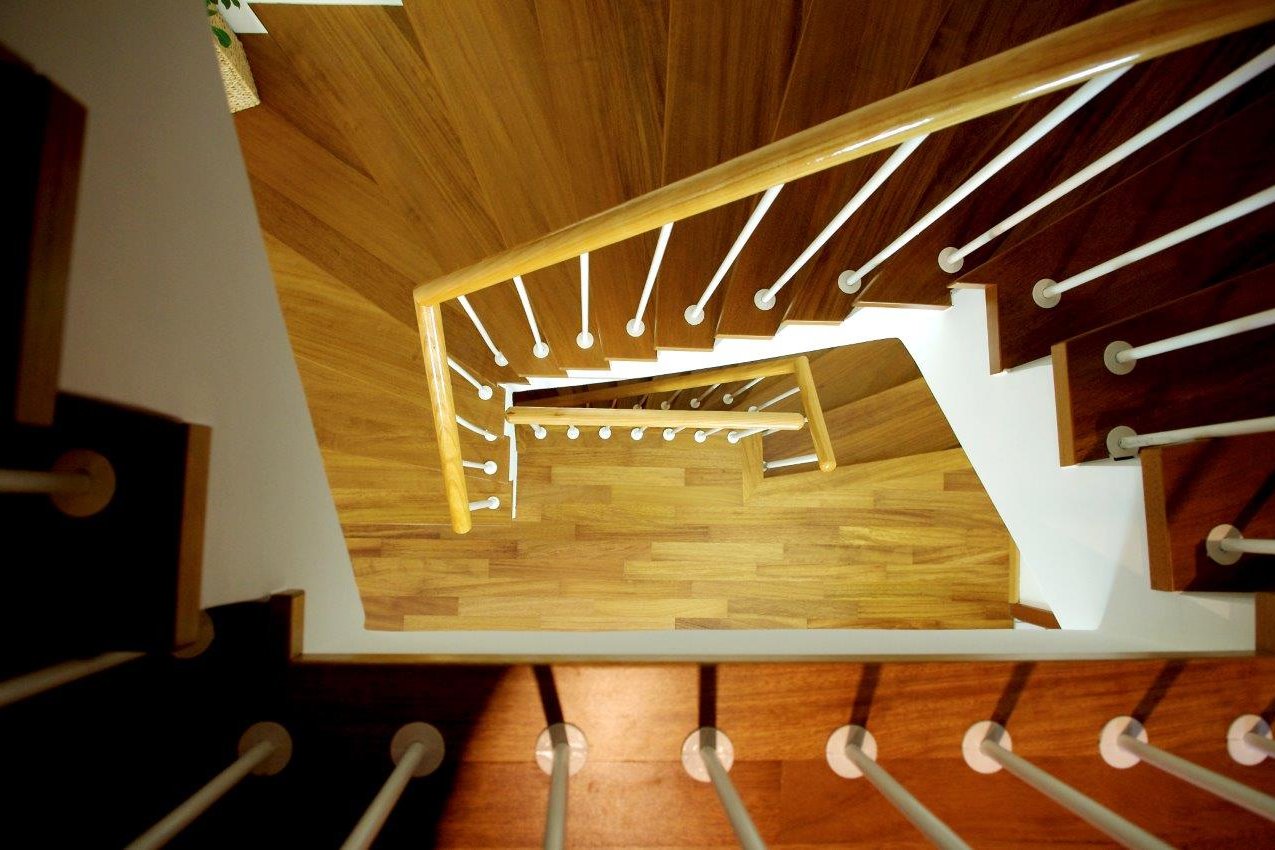 Spiral stairs
This characteristic, romantic type of stairs is not only space-saving, the curved shape, covered with Scheucher parquet steps, ensures a pleasant look and makes every room simply unique.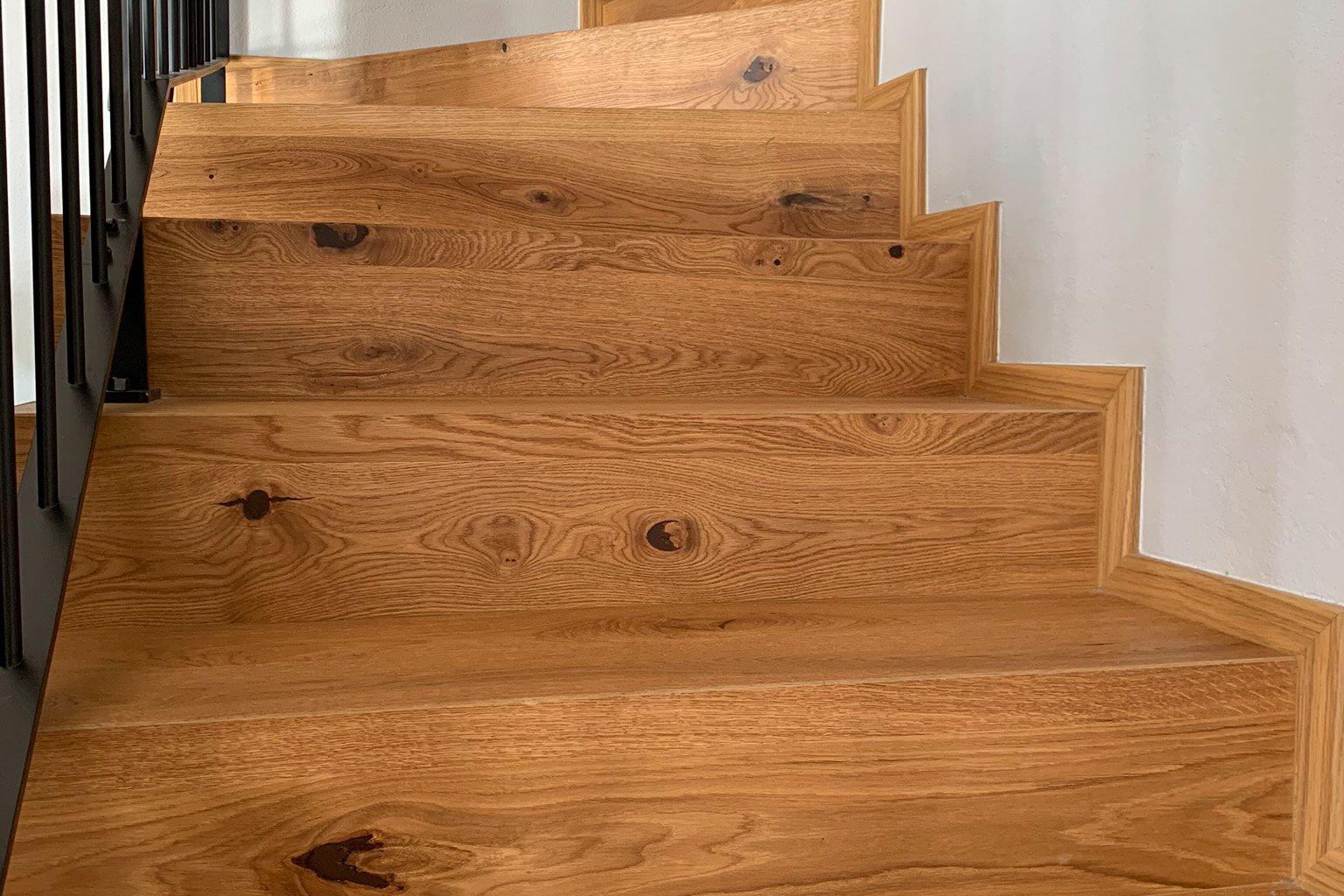 STAIRBOX - MEASURE STAIRS SIMPLY DIGITALLY.
Complex and lengthy measuring work on stairs of all kinds comes to an end. The Stairbox from Scheucher is an innovative, electronic measurement system for stair constructions, which makes it very easy to measure stairs and staircases digitally and to get the parquet step elements that have the same look as your floor directly via Scheucher. The hardware and software is easy to understand , safe and intuitive to use for your floorer, which results in a reliable and safe measurement of your satisfaction.
This might be of your interest too: