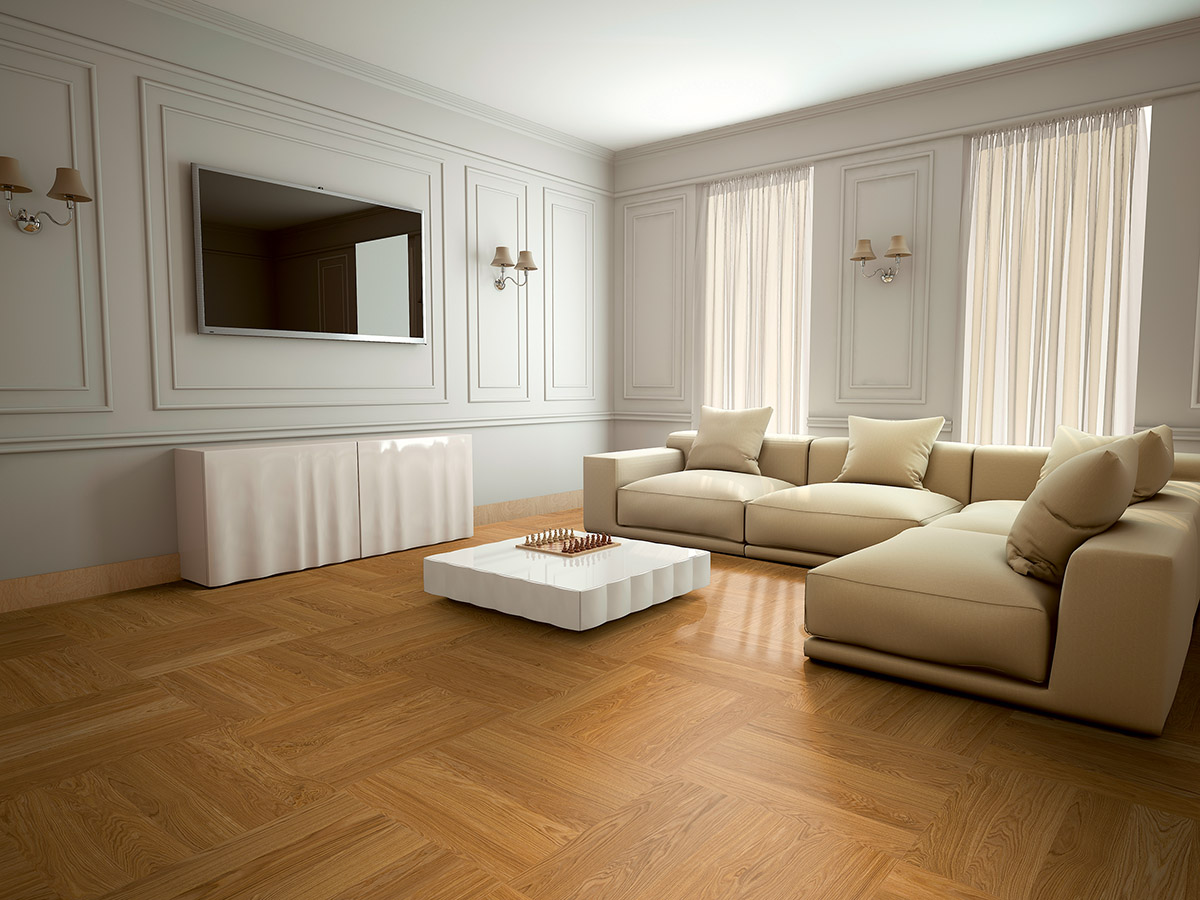 Cube parquet
Our cube pattern strongly reminds you of a chessboard – fascinating and exiting.
Striking but yet calm: our cube pattern casts a spell over everyone.
Despite of the eye-catching look, this way of installation has a very balanced effect on rooms and consists of squares of five equal strips, varyingly arrayed horizontally or vertically - either installed parallel or diagonally to the edge of a room. Due to its regularity, cube parquet neither diminishes nor enlarges rooms, what actually enhances the spatial effect - ideal for rooms that do not need any optical tricks. This installation pattern achieves the best effect in square rooms. The dimension of a strip is 11 x 140 x 700 mm, 5 strips are arranged next to each other per cube.
Enchants from the first to the last square.
Characteristics of cube parquet at a glance:
Neutral effect
No optical tricks
Ideal for square-shaped rooms
Lends every room peace and serenity
Multilayerparquet MULTIflor.11 700 for high-quality glue-down installation
Ideally suited for the installation on underfloor heating systems
100% made in Austria using solar energy
Healthy room climate
Cube parquet is installed with our MULTIflor.11 700 system. The multilayer parquet impresses with its great flexibility and is perfectly suited for underfloor heating systems.
MULTIflor.11 700 goes beyond the scope of today's usual installation patterns.
SEE YOUR FAVORITE CUBE PARQUET VIRTUALLY IN YOUR OWN HOME
Cube parquet is available in a variety of wood types and colors. Use our Parquet-Finder to get to know the whole range and at the same time install your favorite cube parquet virtually in your home. Simply upload your own room photo!
Another pattern might suit your home better?
Click through the large selection of our parquet floors.