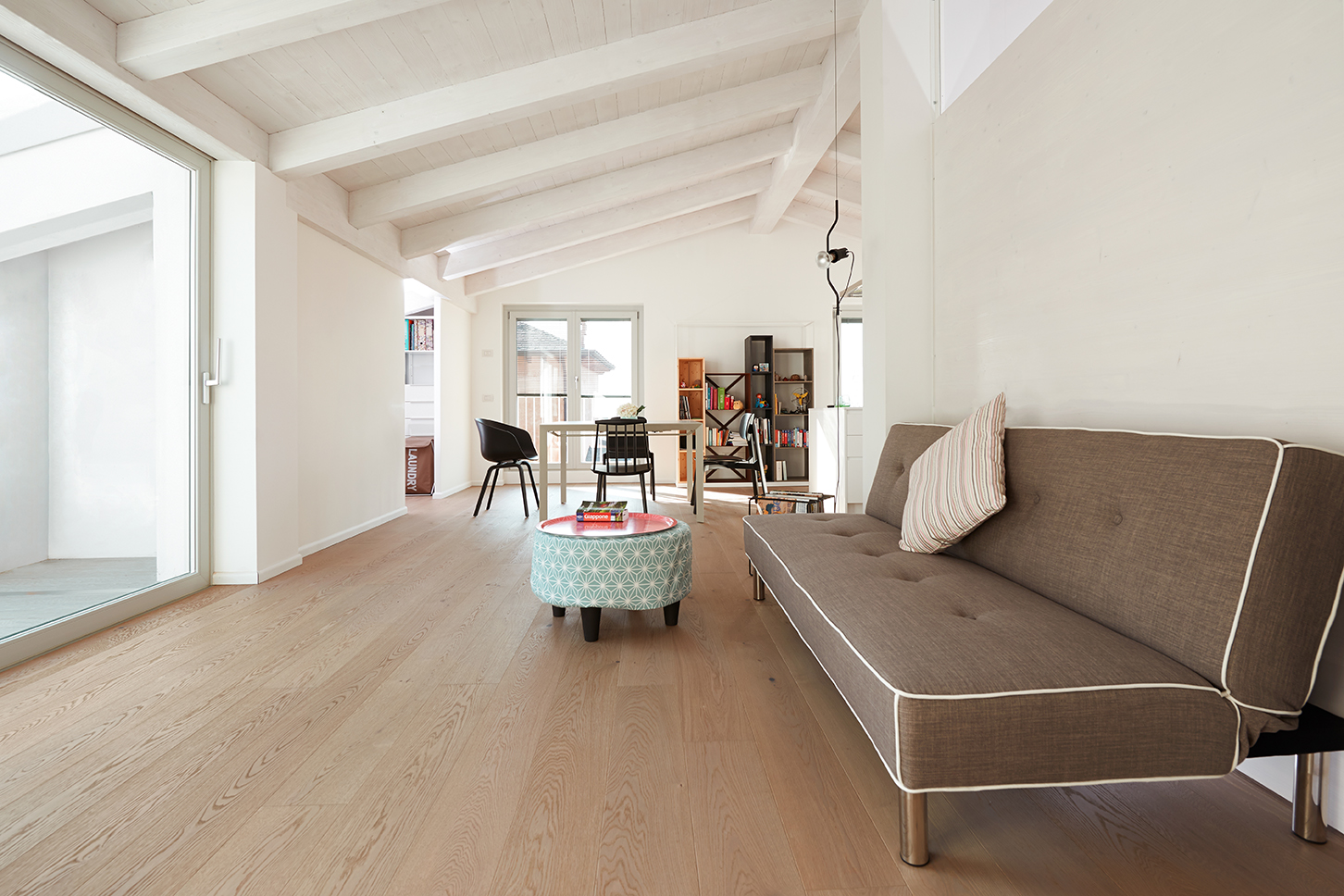 High-quality parquet flooring
With the right parquet floor, you bring the naturalness and charm of the raw material wood into your home. However, it is not only the visual and biological characteristics that make real wood parquet one of the most popular floors, but also its uniqueness, variety, radiant warmth and years of beauty.
Grown in quiet in the forest
More and more, people long for character and a down-to-earth harmony and natural beauty. Or for less common ideas. It is not surprising that wood captures people's hearts more than ever today. And that there are specialists who bring fine woods of the best quality into our rooms. Just like Scheucher. One hundred years of experience and a never-ending passion for natural wood materials are the ground on which our Styrian company Scheucher still stands today nd passionately produces the most unique parquet floors for your home.
The past time in particular has shown us how important it is to feel good in your own home. As one of the largest and most effective living area and the fact that we spend the majority of our time indoors, your floor is an extremely important component of every building and not only influences the appearance of a room, but also the room climate and, as a result, the well-being and the health of you and your family. As a natural design and technical miracle, Scheucher parquet floors meet all the requirements of modern construction processes and create the an optimum basis for a healthy room climate and a timelessly beautiful interior - according to your personal taste. Get to know the advantages of probably the oldest human building material in the form of our parquet floors:
Why choose a natural parquet floor?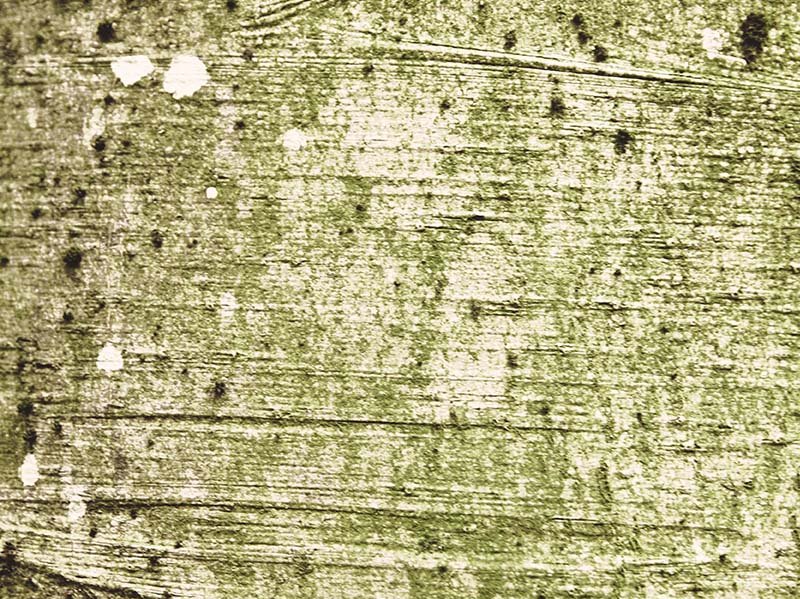 YOUR PARQUET FLOOR FROM SCHEUCHER IS ... NATURAL & HEALTHY,
Wood is a naturally grown raw material and no other material stands for such naturalness and liveliness. Since the earliest days, our human body has been strongly responsive to the organic material wood. Being a sensitive measuring device, it discerns wood not just visually but also through touch or sense of smell. As it is a familiar material, our body knows that wood is not harmful and instinctively reacts by switching over to relaxation and rest. This not only contributes to our physical health but also influences our nervous system and helps us to relax and cope with stress. In addition, wood, and consequently parquet, has the ability to compensate for differences in humidity, to absorb harmful substances in the air in order to optimize the air quality in your room. Its surface, that is always warm to the feet, and the structural quality of a grown element gives living and working spaces something deeply lively. This uniqueness makes every Scheucher parquet floor unique, having its own character that provides a treat for all the senses.
GUARANTEED MADE OF REAL WOOD,
Not all floor coverings that look like wood are made of real wood and consumers are often deceived by imitations. For example, "vinyl parquet" or "LVT pre-fabricated parquet" is in no way a product made of wood, but imitations or floor coverings with a petroleum-based, thermoplastic and plasticizer-coated vinyl wear layer. "Laminate parquet" is a melamine resin-coated plastic wear layer. Do your research and make sure that you choose a product made of real wood and not a replica. The "Real Wood" quality seal, which is valid throughout Europe, is a valuable decision-making aid when choosing your floor. It identifies real wood and thus differs from all other wood-like floor coverings. In addition, the trademark stands for an excellent environmental and ecological balance of real wood. According to the European-wide standard EN 13756, parquet is defined as "wood flooring with a wear layer thickness of at least 2.5 mm before installation".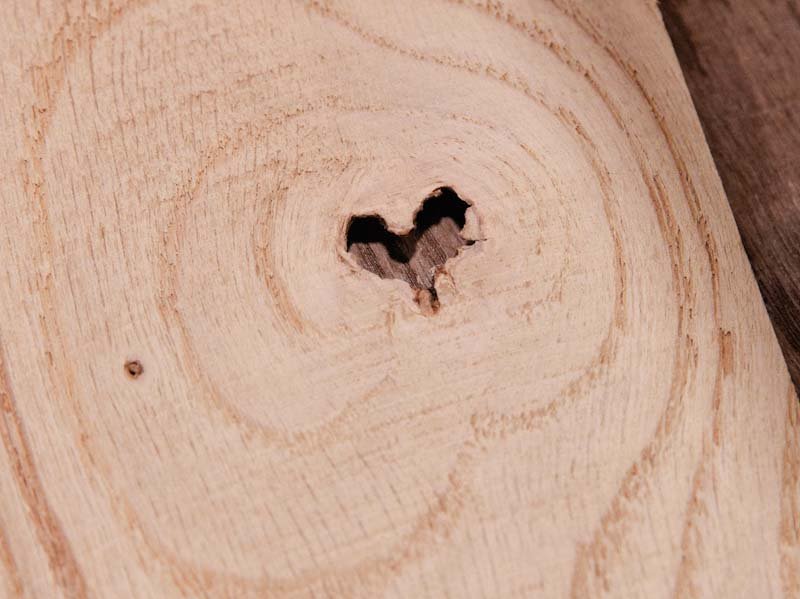 SUSTAINABLE & MADE FOR GENERATIONS,
Parquet is an investment for life. We particularly recommend our parquet floors treated with natural oils and waxes (SEDA). The oil penetrates deep into the wood and is hardened with oxygen (oxidative). The finished surface is refined with a special natural oil. The surface is open-pored, breathable, warm to the feet, natural and therefore there is no static charge. After years of use or heavy use, all of our parquet floors can be easily renovated several times thanks to the strong, precious wood wear layer - simply sand down and treat the surface. If necessary, scratches and damage at our SEDA floors can also be partially repaired without any problems - this means that your parquet floor can last for generations in full beauty and, like it is the case at many other floor coverings, does not have to be replaced and disposed of straight away.
100% MANUFACTURED IN AUSTRIA WITH SOLAR ENERGY,
Anyone who uses parquet as a building material not only increases the value of their property but also invests in their own well-being. Our parquet floors are manufactured with the greatest care, sustainably and exclusively at our production site in Styria and are subject to ongoing external and internal inspectations. As a family company with a long tradition, we not only feel responsible for your well-being and satisfaction with our products, but of course -with their production - also for our environment and the climate of our future generations. Our parquet floors are therefore produced using environmentally and resource-friendly processes. With the currently largest photovoltaic roof system in Austria, which was installed on our roofs in 2018, we also save up to four million kg in CO2 emissions every year. Our system has an output of 5000 KWp. Since we can use it to generate more energy than is required for the entire parquet production, we feed the surplus into the public grid as green electricity - in total, this corresponds to a capacity of around 1300 average households!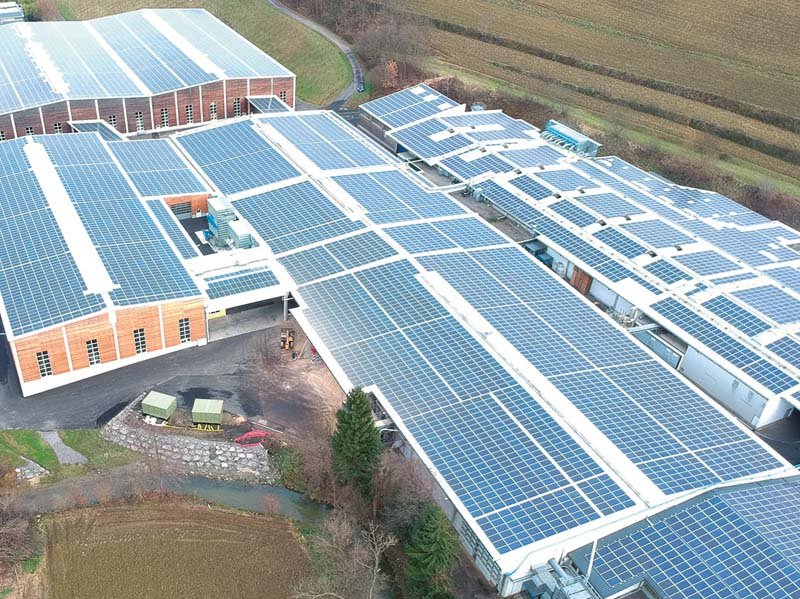 TIMELESS, MODERN & MULTIFACETED,
By choosing a wooden floor, you bring a large piece of nature into your living space. You support optimal indoor climate conditions and create a home, that is always state of the art., because wooden floors hit the taste of the time since centuries. There are hardly any limits on design possibilities and due to the cooperation with interior designers, designers and the furniture industry, our assortment is constantly adapted to the latest furnishing trends.
HYGIENIC & EASY TO CARE FOR,
Germs, mites and other troublemakers don't stand a chance at parquet. Wood also has a natural antistatic effect and doesn't attract dust – this combination makes our parquet particularly long-lasting and easy to care for. Vacuuming and, if necessary, wiping up damp is absolutely sufficient for the regular cleaning. If your parquet needs an extra dose of care, we also have a perfectly adjusted range of cleaning and care products for you.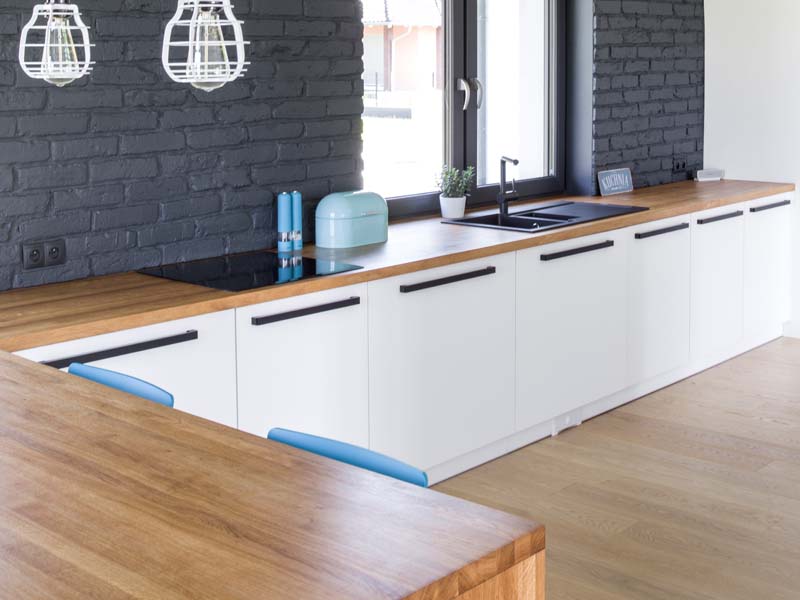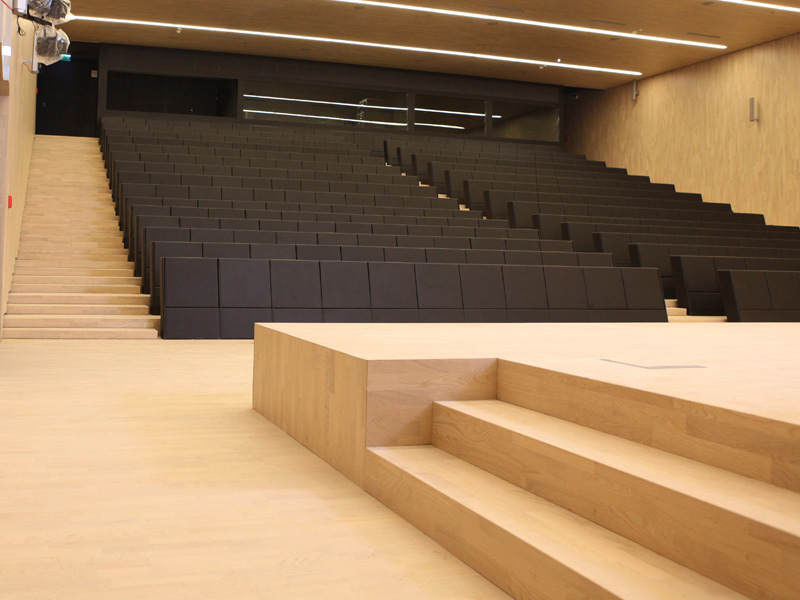 SOPHISTICATED AND OPTIMALLY TAILORED TO THE REQUIREMENTS OF TODAY'S CONSTRUCTION PROCESSES.
The different types of construction of our 2- and 3-layer engineered wood flooring combined with their technical properties offer a particularly flexible selection for a wide variety of areas of application. Our range of accessories such as stairs made from the same parquet as the floor or matching skirtings leave nothing to be desired and complete every home with a harmonious overall appearance.
The right room climate for parquet and humans?
Learn more
Parquet and underfloor heating systems
Nowadays almost every second builder opts for an underfloor heating - and the reasons are obvious: the mild radiant heat from below is trailblazing, environmentally friendly, clean and comfortable.
Parquet is also a naturally hygienic, allergy-friendly floor covering and has a favorable, neither too high nor too low thermal resistance. It is warm to the feet even when your underfloor heating is not switched on, and ensures an indescribably pleasant walking experience with its special haptics. Thanks to this property, there is no need to activate the underfloor heating during the often uncomfortable fall and spring period, for example. Also the swelling and shrinking behavior of multi-layer parquet is many times lower compared to solid parquet.
Beside floating installations, a fully glued down installation is a proven and optimum installation method, resulting in an improved heat transfer and a low gap formation. When installing above unheated rooms or rooms without a basement take care of a permanent moisture barrier to avoid possible damage caused by moisture from underneath. Both professionally prepared wet and dry screed systems can be used. The implementation of screed dryings have to be carried out according to the manufacturer's instructions. The residual moisture due to CM-method at the time of installation must not exceed 1.8 % at cement screeds and 0.3 % at anhydrite screeds. Accelerated screeds must comply with the manufacturer's instructions. In any case, the corresponding rel. humidity of the screed for heated subfloors has to be below 60% RH. Corresponding rel. humidity is meant to be the mea­sured value in the equilibrium state under a sufficiently large, sealed test area above screed´s surface.
Thermal insulation restistances
The thermal insulation resistance is the resistance that a component offers to the heat flow during the transfer of heat. This resistance depends on the strength but also the material of the component. Parquet floors from Scheucher Holzindustrie GmbH are suitable for the installation on underfloor heating systems, according to DIN EN 1264 (series) "Water based surface embedded heating and cooling systems - Part 3: Dimensioning" and are characterized by their low thermal resistance so no energy is wasted unnecessarily - for the sake of the environment and your comfort.
Did you know that you can save up to 6% on heating costs with 1 ° C less energy?
Due to the large-scale heat source of an underfloor heating, the room temperature can be kept up to 3 ° C lower than with conventional radiators by having the same heat felt. What is not widely known though: It is extremely important to choose the right floor-covering.
F.e., with our multilayer parquet collection MULTIflor.11 , you can save even more energy. Thanks to its completely unique design, an un­precedentedly low construction height can be achieved without having to com­promise on the wear layer, which allows the warmth of your underfloor heating to radiate into your rooms the fastest and with the lowest thermal resistance of only 0.078m² K/W. In addition, the low installation height of only 9.8 mm enables a simple and barrier-free connection to other floor coverings in your home and can be renovated several times thanks to a wear layer of 3.6mm.
As individual as nature.

As individual as you.
WHICH PARQUET FLOOR FITS ME AND MY HOME NOW?
Your parquet floor is just as individual as you are. Use our parquet finder to find your favorite floor that exactly suits you and your taste and you will soon enjoy the special awareness of life with Scheucher parquet in your home.
REAL WOOD. BROUGHT FROM THE FOREST TO YOUR FLOOR.
Wood lives and is not just a floor but touches your senses. You SEE the unique wood grains. Quiet, full of character, sometimes rustic - every parquet is a unique piece of nature, marked by an incomparable beauty. You can FEEL the comfortably warm surface with your hands and feet. Depending on the processing (or finishing) they feel smooth, sanded, brushed, scraped or sawn. The pleasant scent of wood and natural high-quality oils you SMELL when you walk on a parquet floor takes you away into the middle of a forest.