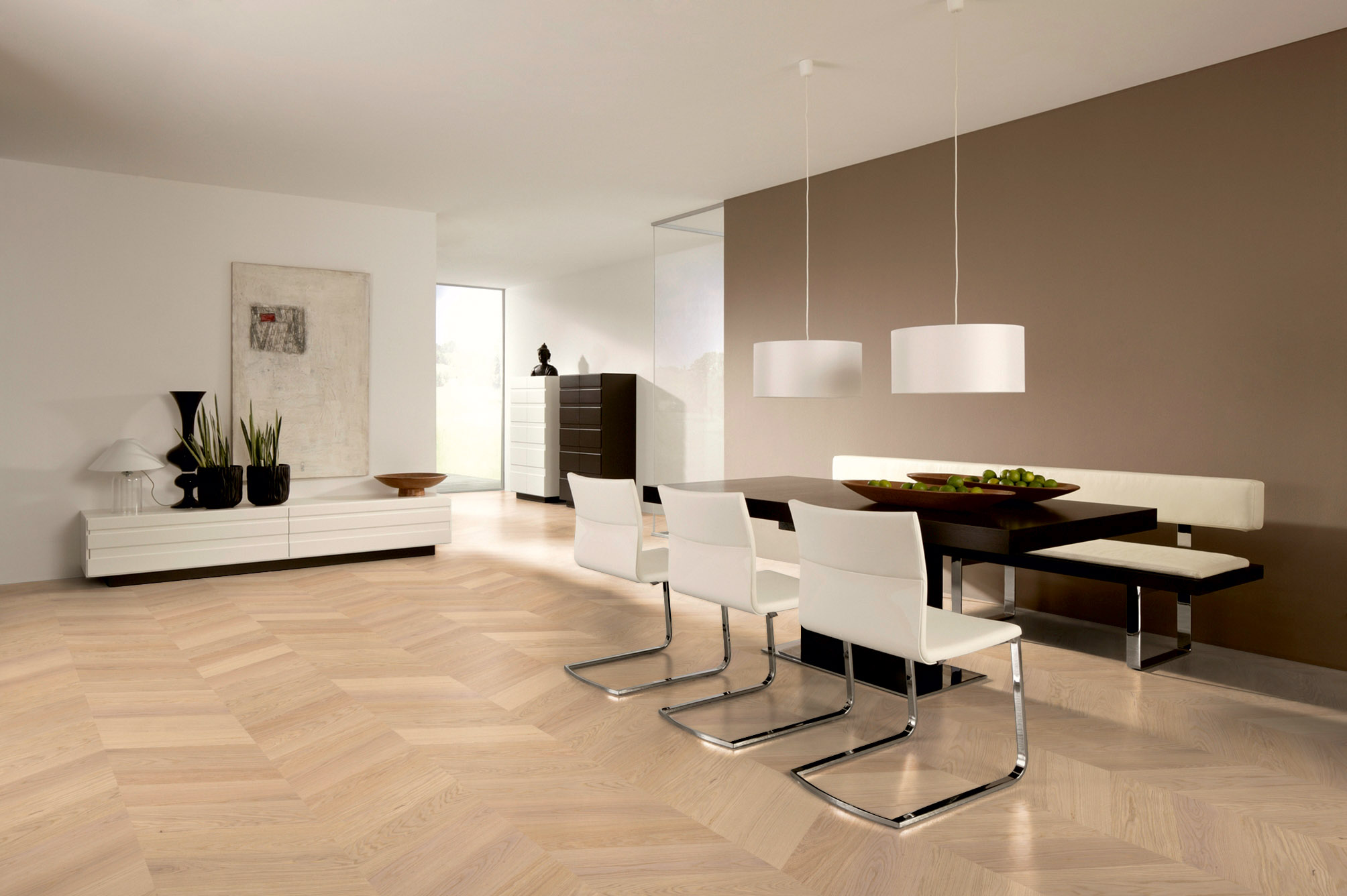 Chevron flooring
Probably the most elegant and exclusive way of installing your parquet floor is steadily gaining popularity around the world. Discover our Chevron flooring and let pure elegance move into your home.
Inspired by the magic of the past, made for the future.
Like classic herringbone parquet, chevron is one of the most precious parquet pattern, which has gained extreme popularity among interior designers and modern furnishers in the recent years and has therefore developed into an absolute trend. The look and feel may be inspired by classic chevron parquet floors, but our MULTIflor.11 NOVOLOC 5G chevron is thoroughly up to date in every other way:
As a world debut in 2016, Scheucher succeeded in combining the elegant look of Chevron flooring with the advantages of the latest product and installation technologies in order to offer you a lot of added value: Made in Austria by Scheucher, it blends solid wood with exclusive technology that both makes it easy to install and offers an amazingly low profile (11 mm) without having to compromise on the wear layer ( still approx. 3.6mm). MULTIflor.11 NOVOLOC 5G gives you the perfect junction to other floor coverings, provides you with our tried and tested click.system, that makes the installation much easier and is available in a range of contemporary colours and various lengths. With a thermal insulation resistance of only 0.078 m² K / W, the parquet stands out again and helps you to reduce your energy consumption and thus also to protects the environment.
Spatial effect and dimensions of our chevron flooring
Available in two wonderfully balanced dimensions with different angles, the parquet models cut a fine figure. Not only in classic rooms, but also in modern surroundings this type of wood flooring scores with a sophisticated linear, geometric style which gives you the illusion of more floor space. This makes even smaller rooms look more spacious. With selected, noble types of wood in different gradings, matching, natural colors and surface treatments, you can achieve unique effects and always enjoy Chevron in different ways, depending on your choice. The chevron parquet strips are tapered at the ends and installed at an angle of 45 ° or 60 ° to each other. The resulting pattern looks even more dynamic than the classic herringbone variant and is particularly effective in large rooms.
Chevron flooring MULTIflor.11 NOVOLOC 5G 500 60°
Dimensions: 11 x 140 x 500mm / 60°
Wear layer: approx. 3.6 mm, suitable for the installation on underfloor heating systems: RT = 0.078 m2K/W
Chevron flooring MULTIflor.11 NOVOLOC 5G 740 45°
Dimensions: 11 x 140 x 740 mm / 45°
Wear layer: approx. 3.6 mm, suitable for the installation on underfloor heating systems: RT = 0.078 m2K/W
Chevron flooring in your home? Visualize now!
The best way to find out which version fits your home is using our interactive parquet finder. Simply upload your own room photo, select the Chveron design, browse the range, get creative and soon enjoy an incomparably exclusive feeling at home!
DON'T WORRY ABOUT THE INSTALLATION
CHEVRON FLOORING FROM SCHEUCHER IS AVAILABLE WITH CLICK-SYSTEM
Unfortunately, the installation of chevron has posed a challenge coupled with big efforts and highest demands for precision to every craftsman in the past We are still proud that we gave the world's first answer to this problem and managed to combine the elegant look of chevron flooring with the advantages of the most recent product- and installation-technologies.
Find your installation professional now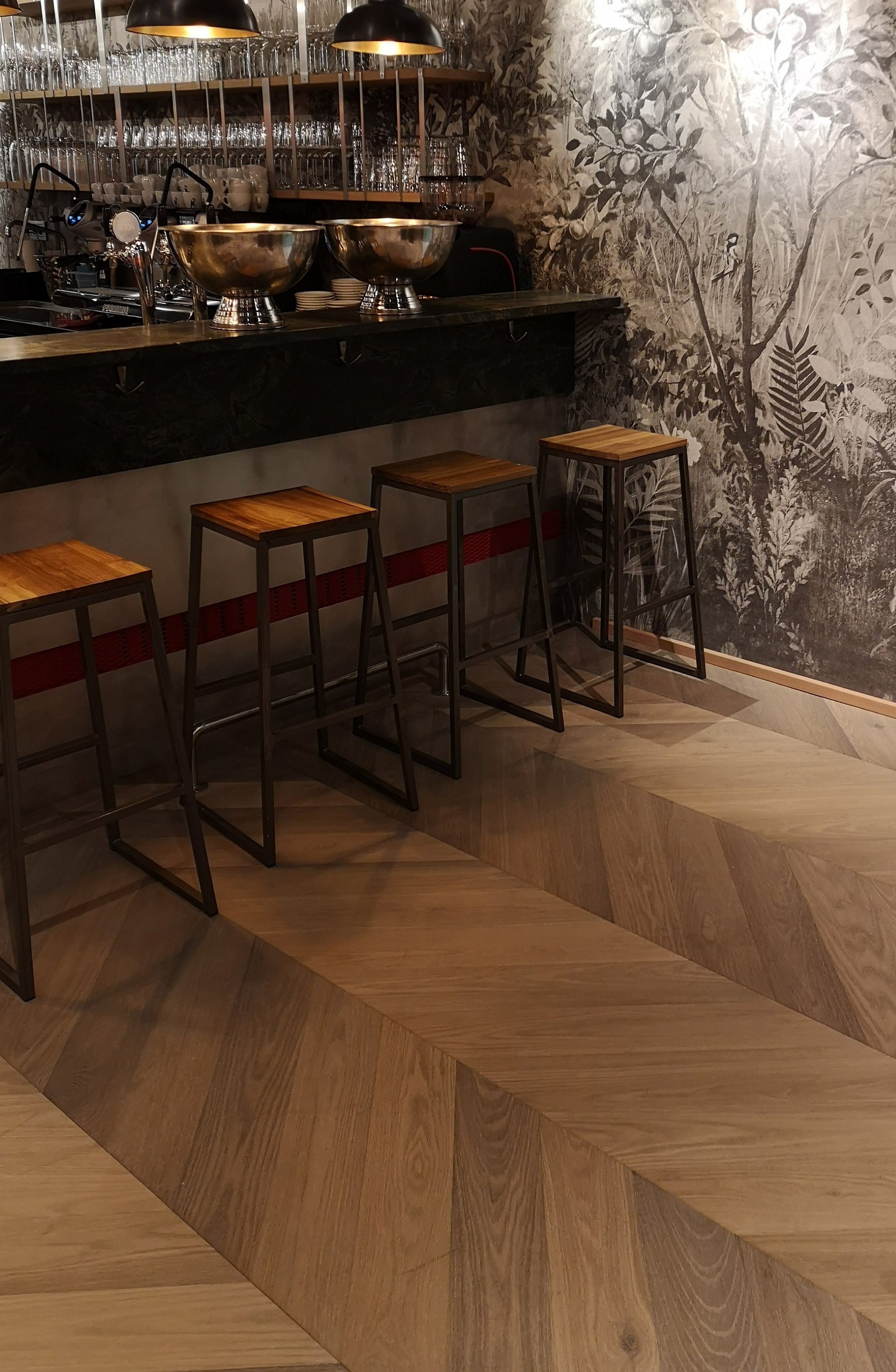 This might be of your interest too: