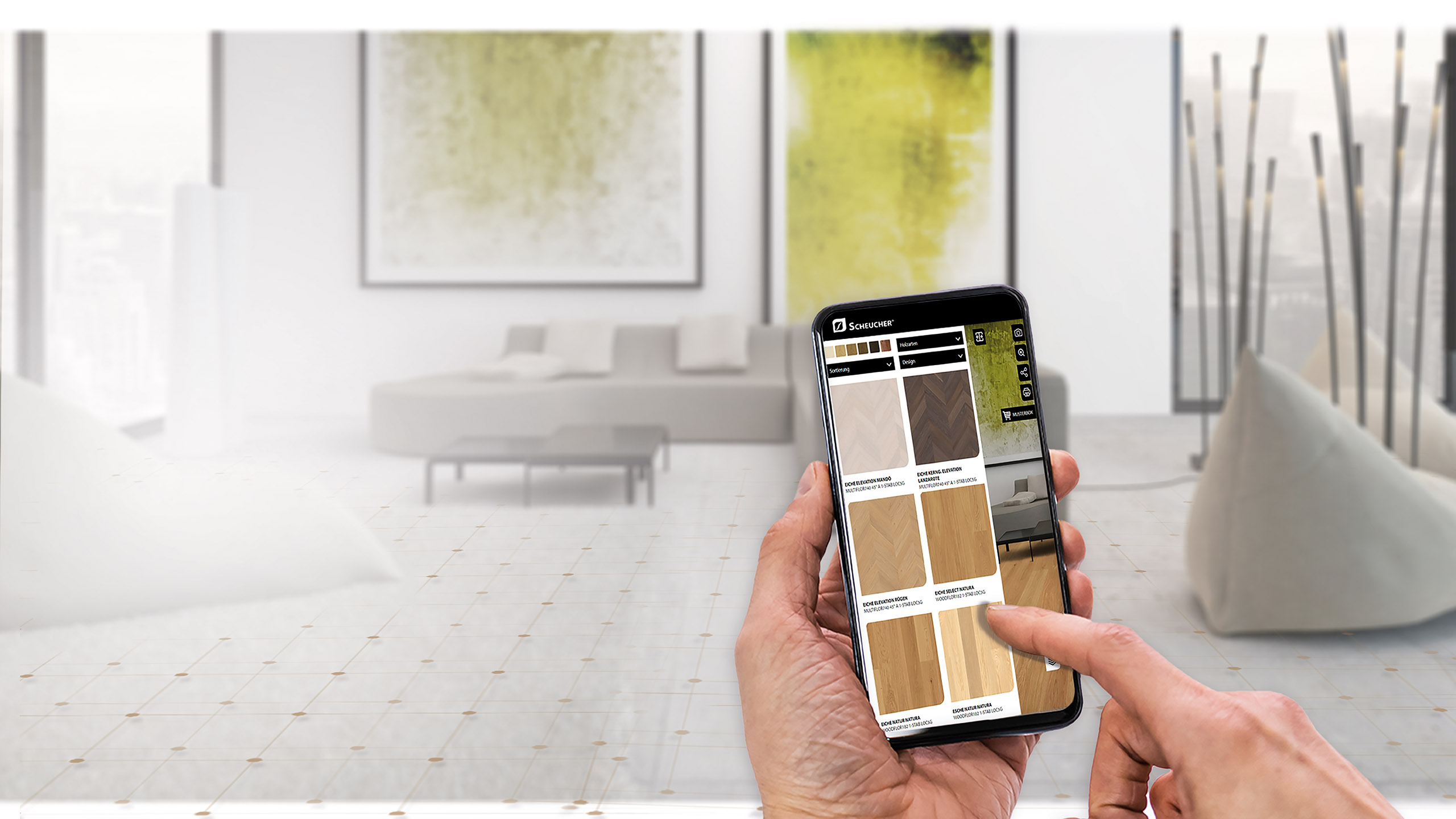 Vizualize your own room with Scheucher Parquet
Use our parquet finder to find the perfect parquet floor for you. To find out which parquet fits best, the parquet finder offers an overview of all product options in our diverse range of wood types, colors, surfaces and dimensions. At the same time, you can see your favorite parquet right in your own home with our interactive floor visualization tool. Simply upload your own room photo!
Which parquet floor suits my home?
Light parquet, dark parquet, herringbone parquet, oak parquet, walnut parquet, scraped or steamed parquet, in a calm or lively sorting? These are just a few of the many design options that the Scheucher product range has to offer - and guarantee that there is the right floor for every taste and furnishing style. However, buying a parquet floor can be difficult as you do not know exactly what the desired product will look like in your own space until it is installed. A large selection can make the decision even more difficult.
With the new Scheucher parquet finder and its integrated room visualizer, you can now quickly and virtually see how your dream parquet will look like in your own rooms and make the right choice more efficiently and safely - after all, your Scheucher parquet floor is and should be an investment for life that makes you happy for just as long!
Bring your floor to life now
With our interactive online tool, you can bring your floor to life, because it shows you how your room can change by using different designs.. Whether parquet for the kitchen, for the bathroom or parquet for small rooms: with the parquet finder you can test which parquet fits in every room. Let your creativity run free and test different parquet floors from the Scheucher range to find out which dimension, color and design harmonizes best with your personal style, room size and existing furniture.
No furniture available yet?
Try our parquet finder in a number of predefined room situations in different room categories that are similar to your taste.
Suitable filters quickly guide you to the desired destination - you can also choose from additional options such as adapting the installation direction or the installation pattern. You can also use the zoom function to take a closer look at details.
Product selection
Click on the white button in the middle of the picture to explore Scheucher's diverse world of products, select your favorite one and see it in your desired room. The button at the right bottom gives you the opportunity to select other product alternatives such as structure or finishing if available.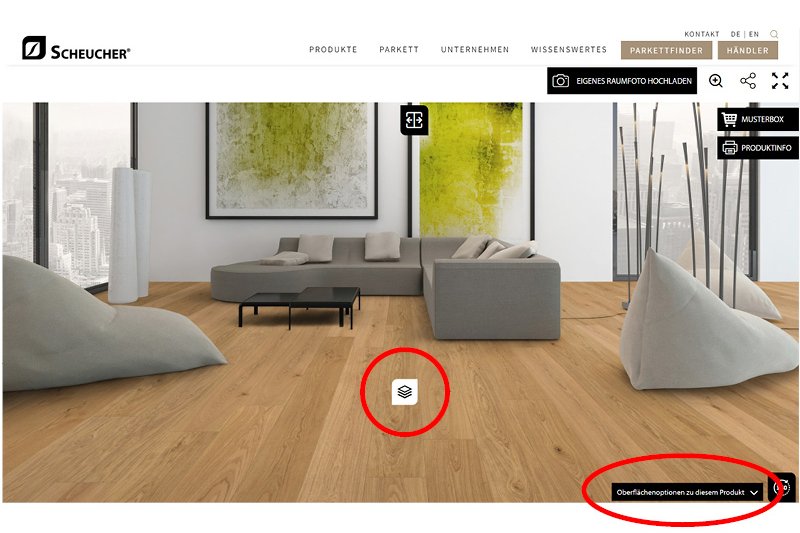 Product info & print function
With the product information and print function, you will automatically receive your virtual room scene including product information on your favorite parquet so that you can take it all in again. Visit your Scheucher specialist dealer in your area now and enjoy all the services relating to your parquet floor - from professional advice to its installation and maintenance! With the share function you can download your chosen product or simply share it by email, Facebook or Twitter and get the opinion of your friends and family!