Beyond borders and yet at home: an intercontinental style with Chevron flooring from Scheucher at Claudia and Nazim's home
Good things take time: during the past pandemic, this phrase took on a new meaning for many builders. Today, many months later and many worries eased, we can now talk to Claudia about her unique home.
And one thing is certain: it definitely turned out very well. One of the reasons for that is our exclusive Chevron flooring.
Urban living with historical charm: Scheucher Parquet in North Rhine-Westphalia
After many months of delays, Claudia and Nazim finally fulfilled their dream home in May 2022 with the handover of their new condominium in beautiful North Rhine-Westphalia.
It has a special character that literally puts a sparkle in our eyes as soon as we arrive in their living environment:
We are on the site of an old light bulb factory!
The heritage-listed factory building has been carefully redesigned and extended into apartments and offices, offering its residents exclusive living at the highest level in the midst of green courtyards that lend this magical place a unique and peaceful atmosphere.
Of course, this unique charm should not stop at the door and so we enter one of the largest penthouse apartments in the "Merkurhöfe" and are delighted to find 125 m² of Scheucher parquet flooring on a total living area of 140 m².
Herringbone parquet was a must for Claudia in the new apartment and they wanted the wooden floor to be smoked too. So now, after the final agony of choosing the dimensions, our chevron flooring MULTIflor.11 NOVOLOC 5G 740 45° in our smoked oak Natur Natura version breathes tasteful elegance into almost all rooms and underlines the prevailing urban atmosphere with historical charm.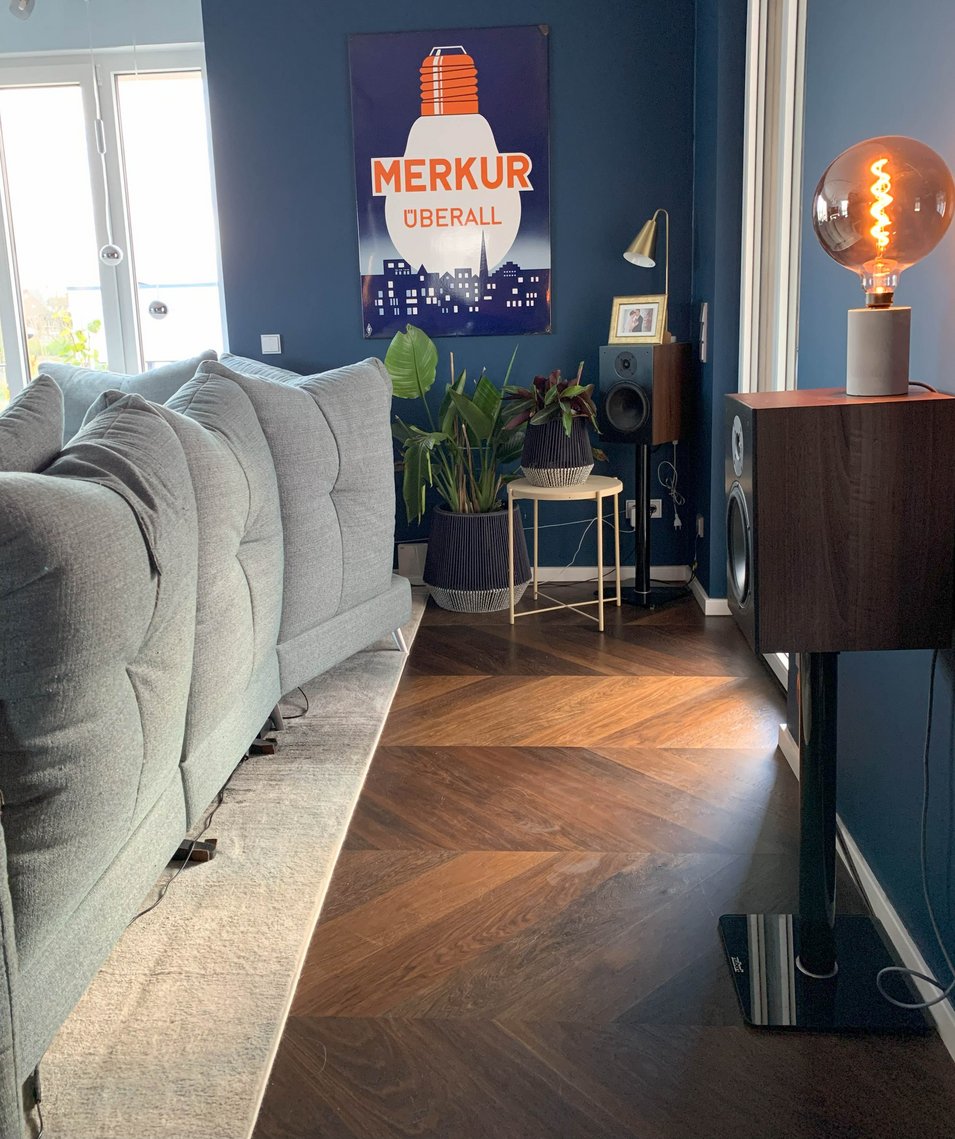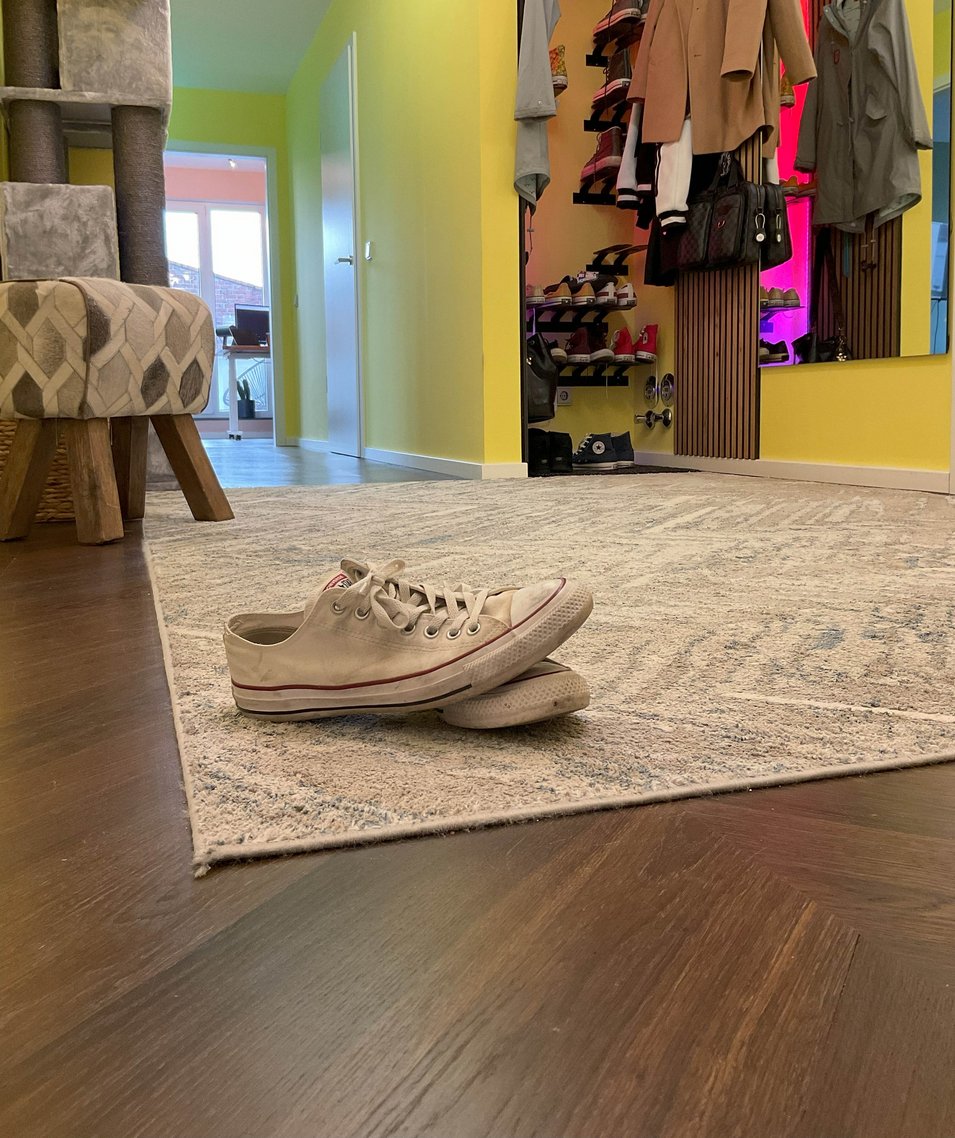 At Hardwood Flooring, each floorboard is a unique piece created by nature, but while their Scheucher parquet flooring is an absolute rock in the surf throughout the home, the spacious apartment offers Claudia plenty of space for her fantastic ideas and creative expression: the color scheme in each of their rooms is different and special from the ground up.
This is intended to create a different mood in each room for Claudia and Nazim, while always combining different elements of metal, wood, water and plants - natural elements that have been proven to symbolize well-being and a feeling of home for Claudia and Nazim.
Claudia describes her interior style as "intercontinental" and is based on the interior design of large international hotel chains such as the Mariott or Four Seasons, but always incorporates her own character, creating her very own boutique look. The preparation of various mood boards led Claudia and Nazim in a more masculine direction without a lot of knick-knack and frills. To draw even more attention to the herringbone floor and to give the large rooms an optimal and clear structure, high-quality carpets were also chosen to match the parquet floor and the furnishings.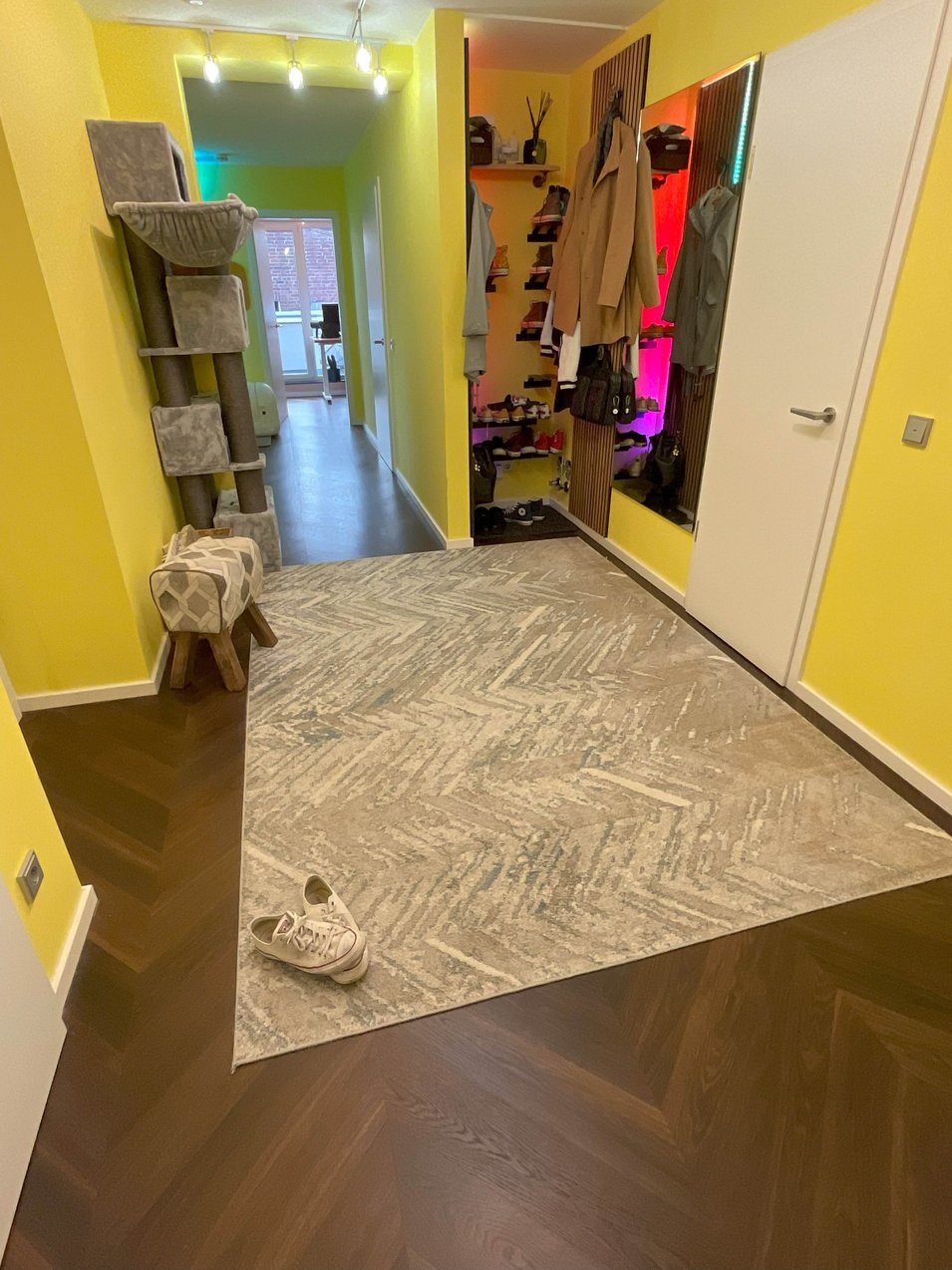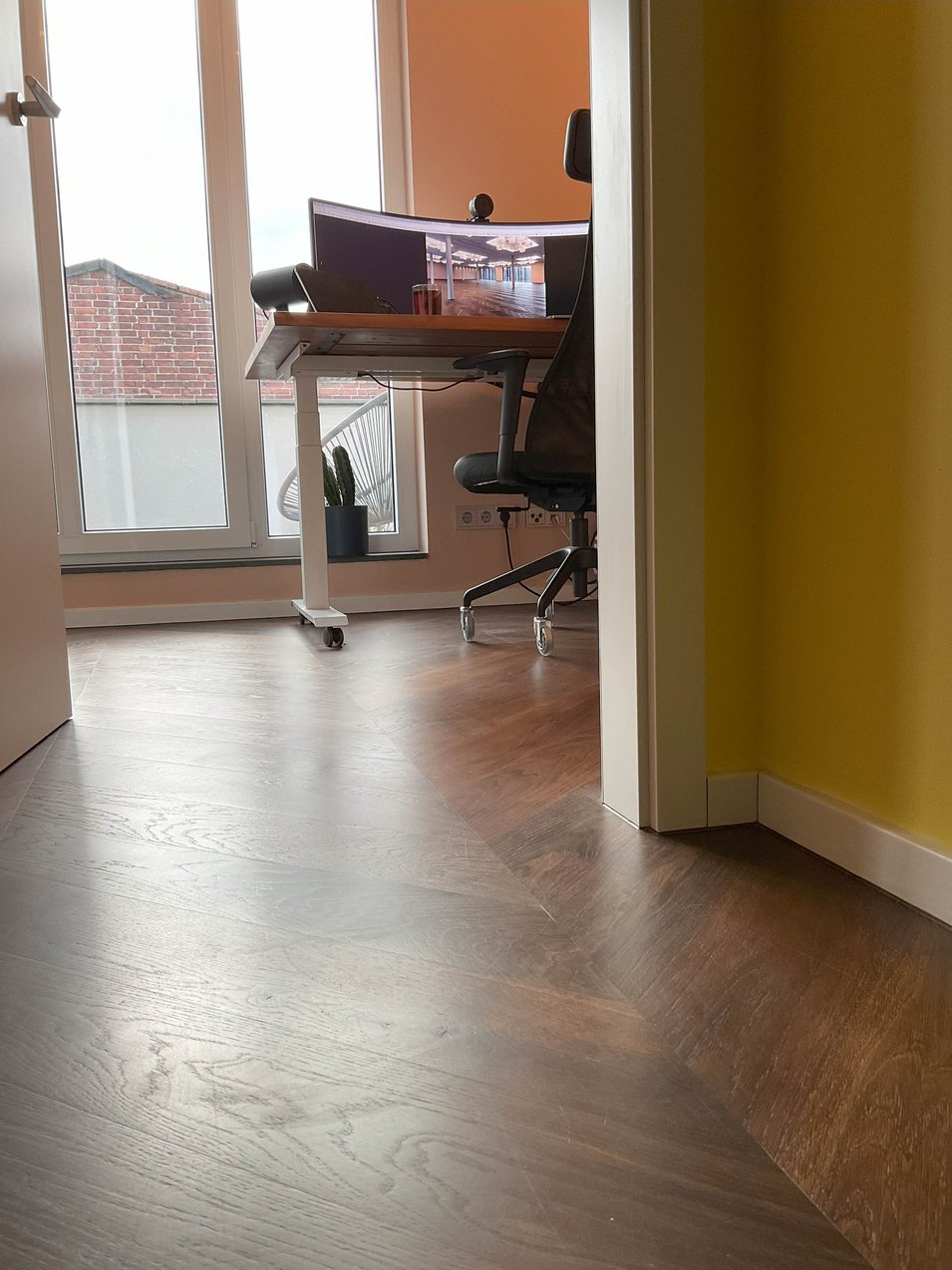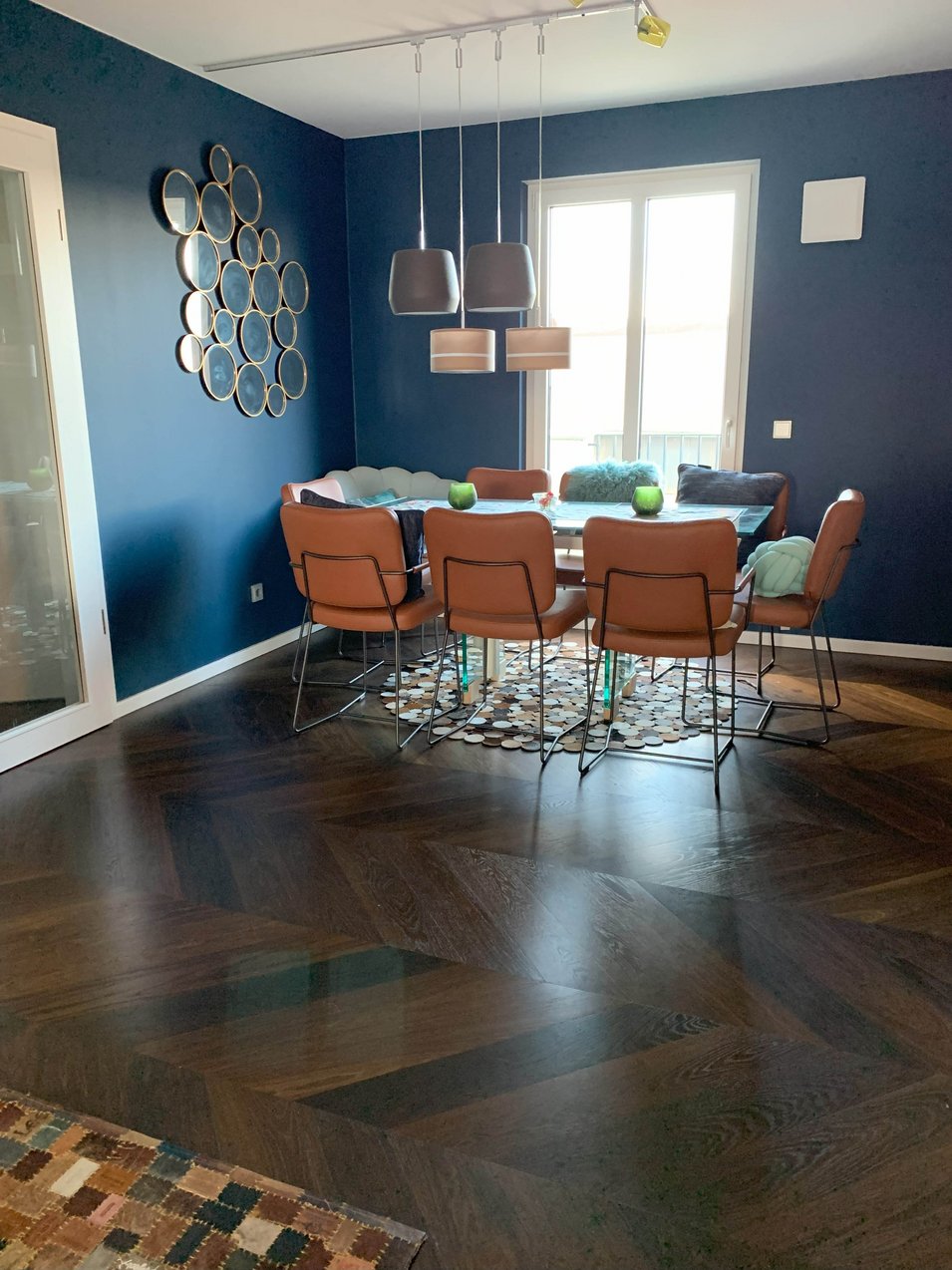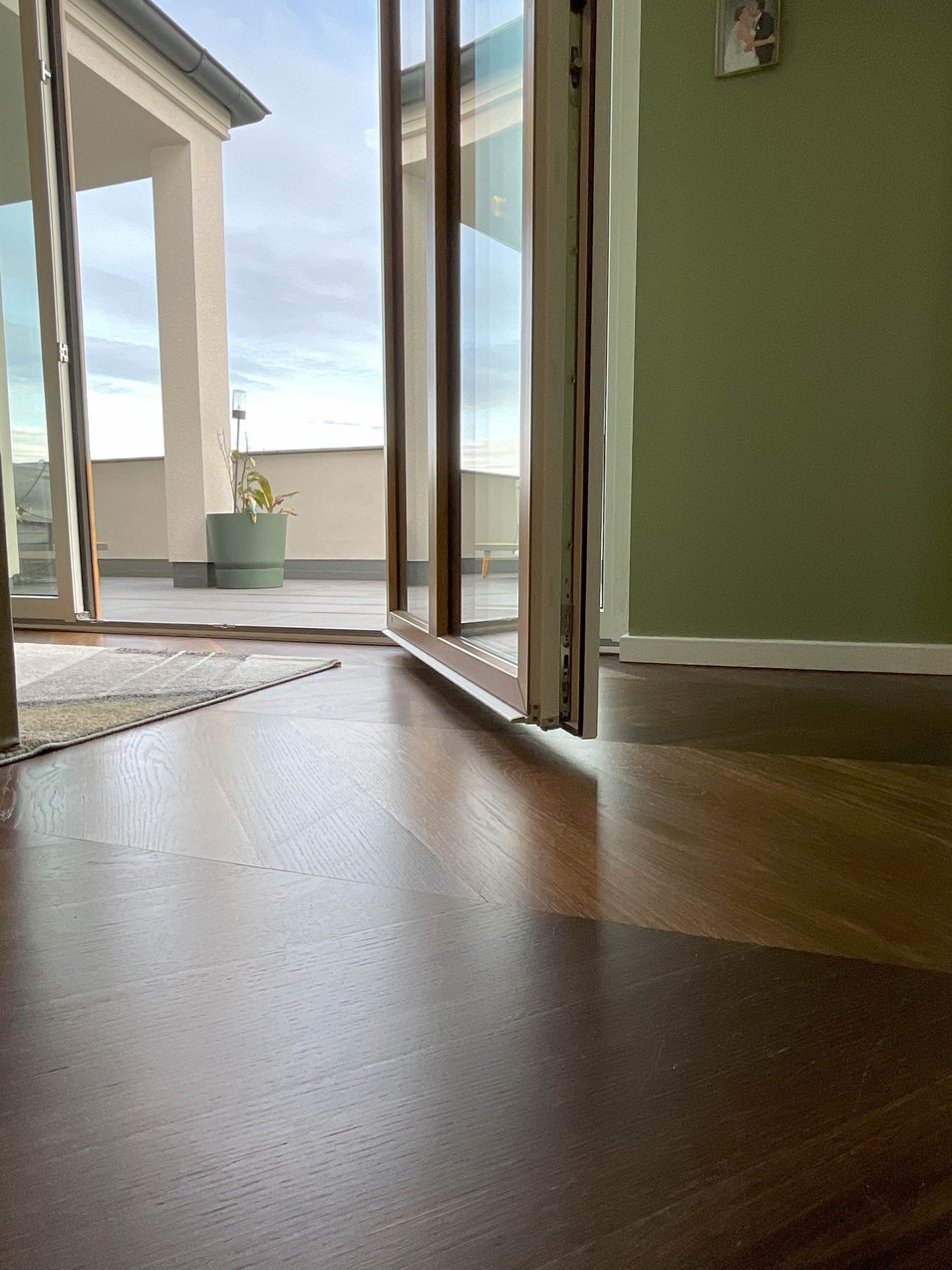 How did Claudia and Nazim become aware of Scheucher Parquet and why did they choose a parquet floor in the first place?
Thanks to their absolutely understandable weakness for wood, the couple naturally opted for a real wooden floor. They already had parquet flooring in their previous apartment and didn't want to miss out on the special feeling of living that only parquet creates.

Despite differing opinions and initial suggestions, the couple remained true to their style and living requirements from the very beginning. While two other Scheucher parquet floors were suggested in the building specifications, Claudia and Nazim fought their way to their dream floor from Scheucher despite closed showrooms or at least far too long waiting times due to the COVID pandemic. Our website, including the parquet finder and the free sample ordering function for our parquet floors, was the biggest help, which worked out great for them.
Claudia and Nazim would recommend their Scheucher parquet at any time and also received positive feedback from the neighborhood about the Scheucher planks that were originally planned and installed as standard.
The beautiful story of Claudia and Nazim shows us:
We can always change rooms through different color schemes and interiors. However, a parquet floor should last and give you pleasure for many decades and should therefore be chosen well thought out and true to style, because as one of the largest living areas, it also plays a large part in the effect of the room. Scheucher has the right floor for every taste, and with a free sample order you are just a few clicks away from getting an optimal first impression of your dream floor.
Thank you Claudia and Nazim for your insight into your special home - keep living colorful and individual.