Pure southern Styria: Scheucher parquet in the Ratscher Landhaus
With a unique project in our wonderful southern Styria, we are starting with you towards autumn and do not want to withhold our latest project from you in this absolutely most beautiful season of the year in our region:
The Ratscher Landhaus is located in the middle of the picturesque vineyards in Ratsch an der Weinstrasse, directly on the South Styrian Wine Route. The accommodation not only impresses with the idyllic surroundings and location, but above all with what it has to offer. The family-run hotel creates a modern ambience with that certain something of southern Styrian cosiness.
After expansion and modernization of the already great stock, 18 new rooms, a new "Weingarten" restaurant and a 500 square meters wellness area were completed in July of this year. With this renovation, hosts Manuela and Andreas Muster not only give their guests an even more breathtaking atmosphere, but also an absolutely natural and unique barefoot feeling with our parquet floors on around 1000 square meters.
The product selected is our MULTIflor NOVOLOC 5G 1200 plank in Oak Country Natura with a sanded and oiled waxed SEDA surface, which also supports a healthy room climate and can always be kept in perfect visual condition.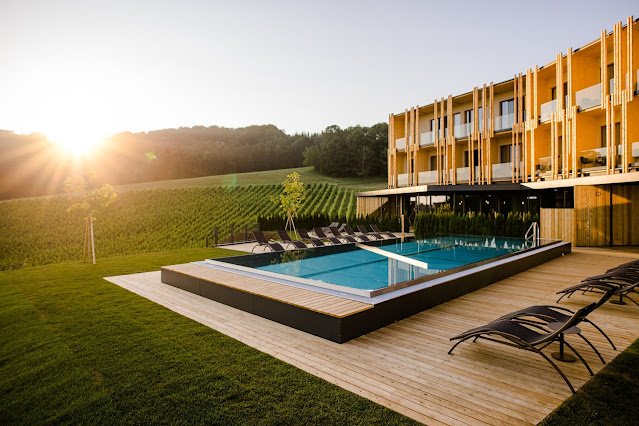 Relaxed? Of course!
Scheucher parquet is not only particularly hygienic and good for the room climate and the acoustics - did you also know that our human body has been strongly responsive to the organic material wood since the earliest days? Being a sensitive measuring device, it discerns wood not just visually but also through touch or sense of smell. As it is a familiar material, our body knows that wood is not harmful and instinctively reacts by switching over to relaxation and rest. This not only contributes to our physical health but also influences our nervous system and helps us to relax and cope with stress.
We think that's exactly what we need whilst having some "delicacies" or a good glass of wine in our unique southern Styria.
Let yourself be inspired by the special impressions with parquet floors and soon experience them yourself with all your senses - with a visit to the Ratscher Landhaus or in your home.
Copyright of all photos: Karin Bergmann